The Lock-In Cabaret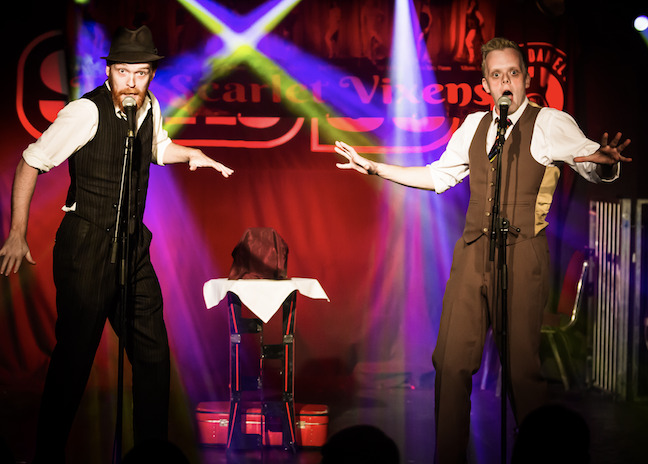 Event Date:
November 10, 2022
Event Location:
Fallen Angel Bar, Angel Hotel
After numerous sell outs at Guildford Fringe and 100's of packed houses at the Edinburgh Fringe Festival, The Lock-in Cabaret are back where it all began, Guildford.
Join high-energy hosts, Griffin and Jones, for an evening of chaos, decadence and mischief.
Line-up:
BINKIE AND MAUD: 
Not so much a variety act, more a midlife crisis.
Adopt the brace-position, as theatrical has-beens Binkie & Maud inflict their delicious, if deluded, dollop of song, ukulele, bass, spoon-playing and gin upon the nation. 
IAN MARCHANT: 
With his unique brand of juggling mixing high skill and barrels of laughs Ian Marchant, the gentleman juggler has charmed and amazed audiences around he world.
MYSTI VINE: 
Like a box of chocolates…you never know what you're gonna get! Will they be funny? Serious? Sexy? All three? There's only one way to find out.
And of course the resident Idiot Magicians, GRIFFIN AND JONES will be hosting, arsing about and generally being the biggest comedy and magic superstars you've never heard of.
Going by past experience, anything can happen!
TICKETS £15.00
Book below or call 01483 361101
There is no disabled access to venue
The venue can be found inside The Angel Hotel on Guildford's High Street
No refunds or exchanges
Seating is allocated by the venue
The Fallen Angel reserve the right to decline entry